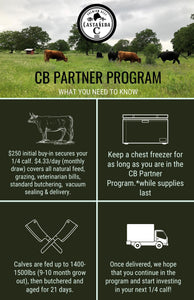 The best meat available!
I bought a 1/4 calf from Casteneda and it is the best meat I have ever purchased. The meat is fresh and so tasty. I have served it to many people and they love it as well.
I will buy another 1/4 next year!
Thank you!
Top Notch Cuts that come with this program. Plus the cuts are legit.
🤤
Great deal, I will keep coming back!
Repeat repeat repeat repeat!
Castaneda beef has the best meat and the best service you can get. I'll be a customer for as long as I can afford to eat!
Awsome meat
This family owned family ran business is what it's all about. The owners are amazing people. They sell the best steaks I have ever tasted. They are like cutting into butter with a hot knife. You don't know until you try them. Get some as soon as you can you will be happy you did.