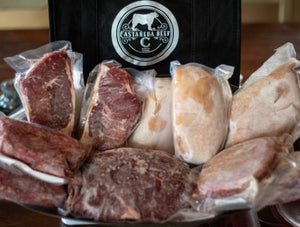 Monthly Subscription Review
Very high quality boxes at a good value. Theres always a base of ground beef and chicken that are perfect. And then the suprise of steaks and other cuts of beef to keep the kitchen changing up. Thanks Castañeda Beef!
Awesome!
I tried out the meat by buying a la carte to see if I liked it and boy did I ever. It is not just the quality of the product but also the amazing customer service that convinced me to go subscription. Thank you Castañeda family for going above and beyond.
Great beef and chicken
We just started receiving monthly deliveries of frozen beef and chicken products from Castaneda Beef and are extremely pleased with the quality and taste of their meats. And, there are very amenable to adjusting the products to be delivered based on our preferences. We highly recommend them!!'
awesome!!!
This subscription box is great! Always has a premium suprise and really spoils you on the wagyu flavor have been a member almost 2yrs now.. their super personal customer service is unmatched. And can always depend on a stocked freezer with Castenada unlike my local supermarket.
AMAZING
This is hands down by far the best meat I and my family have ever bought. You will be so so happy you bought some.
---