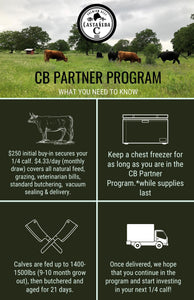 Repeat repeat repeat repeat!
Castaneda beef has the best meat and the best service you can get. I'll be a customer for as long as I can afford to eat!
Awsome meat
This family owned family ran business is what it's all about. The owners are amazing people. They sell the best steaks I have ever tasted. They are like cutting into butter with a hot knife. You don't know until you try them. Get some as soon as you can you will be happy you did.
Excellent beef! It's so good you will want to stay home and grill out!
Program
We smoked the brisket the on Sunday after receiving the meat and it honestly has to be the best brisket I have ever eaten! We praised the cook too but we've had his brisket before and this was exceptionally great! I've had a few hamburgers, and delicious! Thank you for offering this program!
Delicious
Before being a part of the CB Partner, I was looking for a company that delivered meat and my friend highly recommend Castaneda about 6 months ago. Rene delivered our meat and explained where the meat came from and the process. Each meat is package tightly and labeled. The beef is so delicious, and tender. Just a little seasoning needed because it's full of flavor!
---